What is the SOUNDBOKS made of?
article.subHeader SOUNDBOKS - Not the speaker itself, but the people behind it.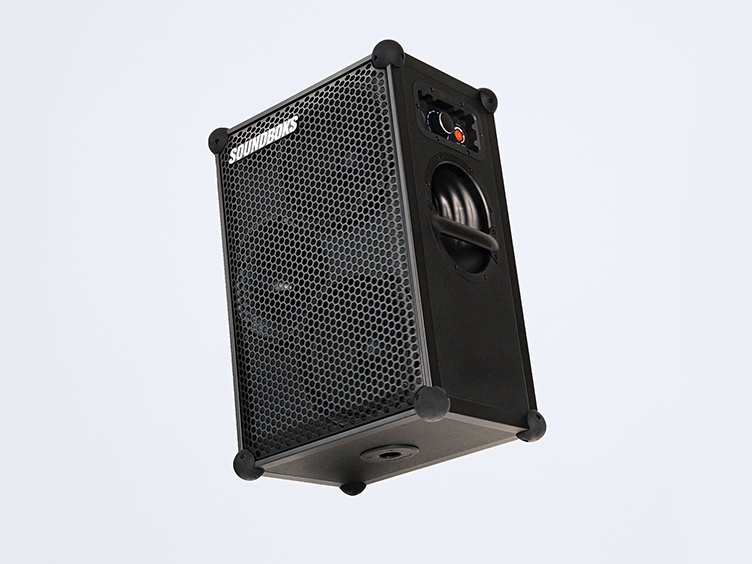 We've done a couple of deep dives underneath the hood of the SOUNDBOKS looking at specific components, but we've never really dug into the details of how the speaker is constructed and what it's actually made of. We've gotten a few questions about it so we thought it might be time to provide some clarity. 
If you've been wondering how the SOUNDBOKS speakers are made and what materials we use to create such a durable speaker - then this one is for you. But hold on to your fedoras - it's about to get nerdy up in here. 
The Materials Used on the Outside
Let's start by looking at the
cabinet
and then work our way in. The cabinet itself is made out of 9mm thick poplar plywood which is actually most often used in the manufacturing of furniture. Due to its high quality, light weight, durability, flexibility, low formaldehyde emissions, and environmental certification it's the perfect fit for SOUNDBOKS. The wood is coated in a light layer of plastic to ensure even better stability and a solid, bash-proof exterior.
To make the speaker even more durable, we added silicone rubber ball corners. They can absorb a lot of impact, putting less stress on the rest of the cabinet and the internal components. Plus they won't get scratched or chipped. 
The UI panel frame is made of ABS (a thermoplastic polymer), while the power and TeamUp buttons are made from silicone rubber and the volume knob is made from aluminum. Sturdy, long-lasting materials that will help keep your SOUNDBOKS looking fresh for longer. 
The battery is a fully rechargeable LiFePo4 lithium iron phosphate battery. Made to last and to let you play your heart out for hours on end. Last but not least we have the grill and the handles. They are both made from cold rolled low carbon, high-strength steel-alloy sheets. The grill has an additional powder coating which makes it more durable and resistant to weather impact and corrosion. 
All in all, the materials we have chosen come together to create a dent-proof,
splash-proof
, bash-proof speaker cabinet that loves to be taken out on adventures.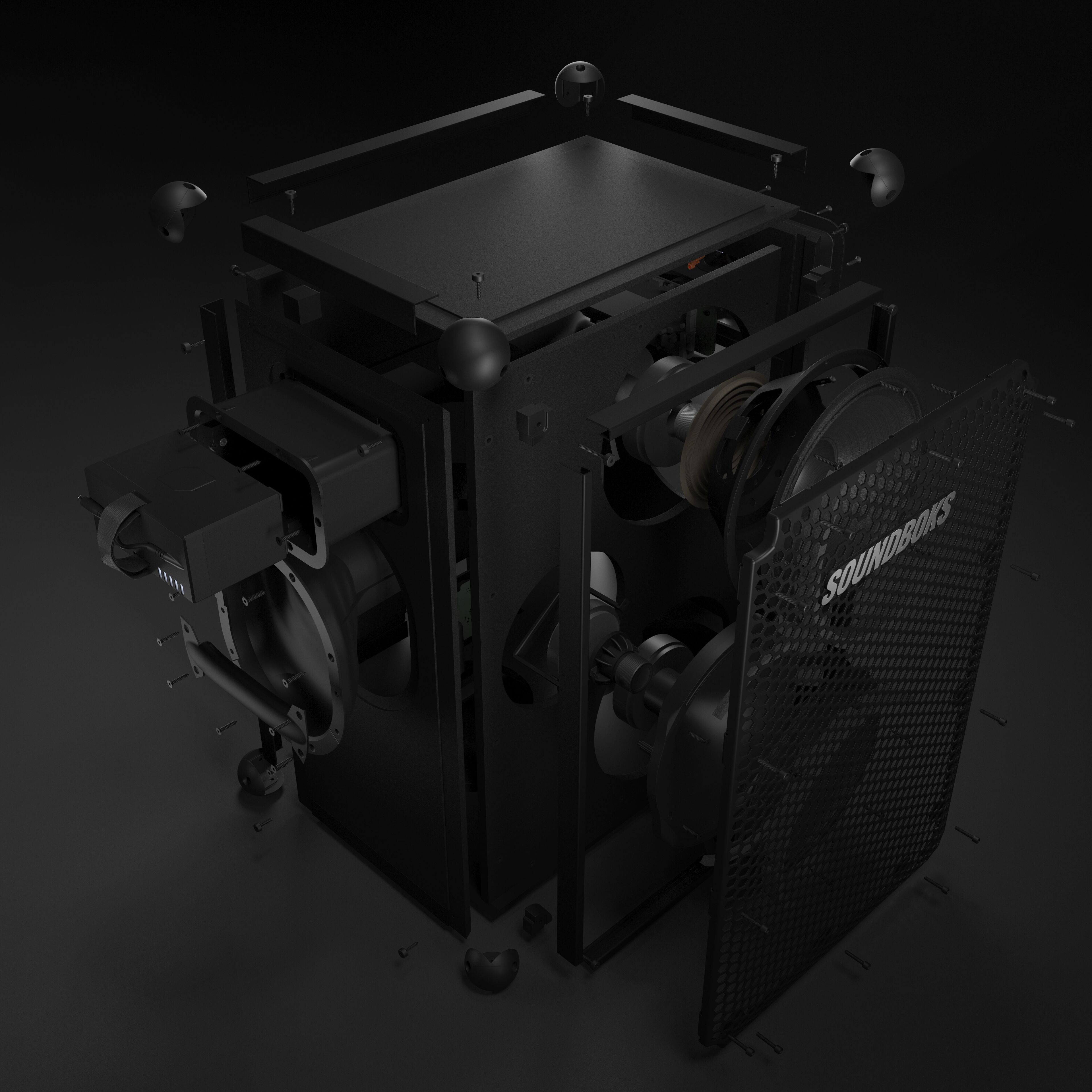 Under the Hood
With that covered, let's dive in under to "hood" and see what's going on inside a SOUNDBOKS (Gen. 3), formerly The New SOUNDBOKS: 
Buried inside the SOUNDBOKS (Gen. 3), formerly The New SOUNDBOKS, are two highly sensitive 10" woofers made by a company called Eminence. These woofers are very efficient in order to play low volume with high sound pressure at low power levels. Alongside it is a 1" compression driver tweeter with a custom-designed tweeter horn for wide dispersion and long throw. 
To round it all out and create that special
SOUNDBOKS sound
we all know and love, the SOUNDBOKS (Gen 3.), formerly the New SOUNDBOKS, is equipped with a specially designed amplifier that features a state-of-the-art Class D output stage. It relies on a highly efficient patented multi-level switch-mode technology - which is the secret to the speaker's long battery life. 
Production of the SOUNDBOKS
Our speakers are produced in a factory in Guangzhou in Southern China. All of the different parts of the SOUNDBOKS are shipped to our manufacturing factory where they are then assembled into the finished product. We chose this specific factory because they have both speaker driver and Printed Circuit Board (PCB) production in-house - two very important parts of the SOUNDBOKS. It's their core competence and it helps us to ensure the highest quality at all times. 
Once the speakers are fully assembled they are packaged into containers and shipped to one of our two warehouses - one in Europe and one in the US. From there we then ship the speakers out to all of you, our lovely customers, and to retailers' warehouses. 
All repairs and reclamations are handled directly by us. In Europe, we do the repairs at our headquarters in Copenhagen and in the US at our warehouse in Northern California. In Europe we've got
Emil
digging into any repairs that come his way. He knows the SOUNDBOKS like the back of his hand and is well equipped to handle pretty much any issue that gets thrown his way.
And there you have it. The construction and creation of a SOUNDBOKS (perhaps ever so slightly simplified for obvious reasons). 
If you have any questions about specific parts of the SOUNDBOKS or just want to find out more - feel free to shoot us an email at
Volume@SOUNDBOKS.com
any time. 
Now, back to our regularly scheduled programming…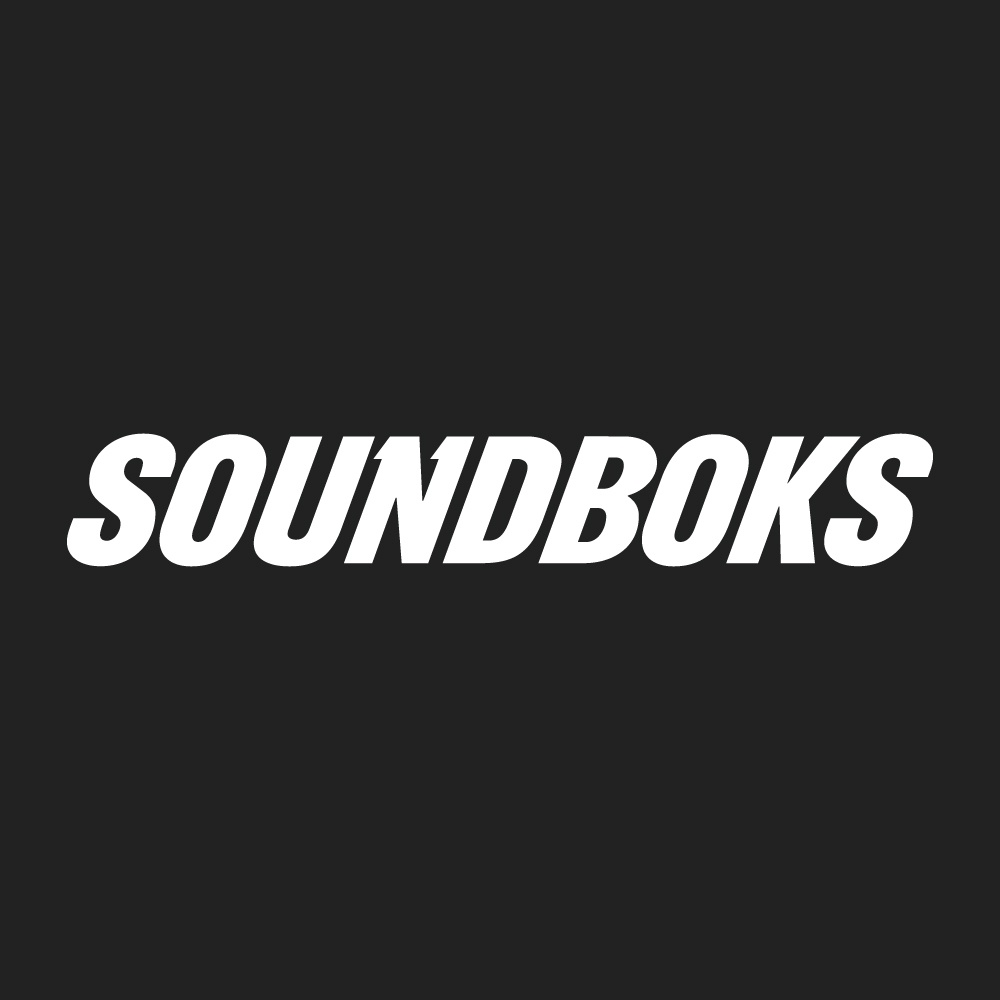 article.authorProfile.title
SOUNDBOKS is the world's first and only Bluetooth Performance Speaker. Beautifully loud, wirelessly pairable, amazingly durable, surprisingly lightweight and the only wireless speaker with a swappable battery.
article.relatedPosts.title.morePostsIn
global.productCategory.title