To the Beat of the Drum
article.subHeader SOUNDBOKS, starring Hannah - Organizational Development Lead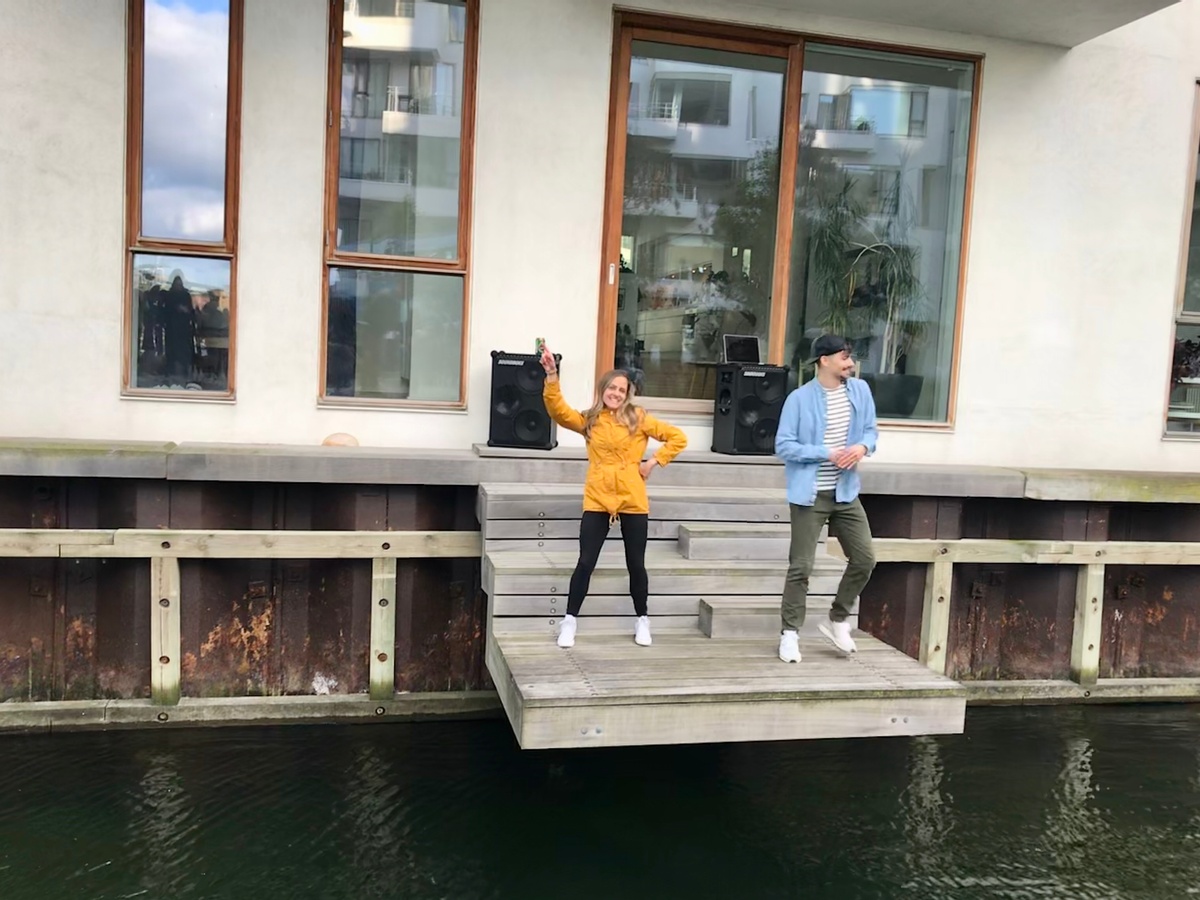 Even though the world is currently in turmoil and we are unsure of what the future will hold, at SOUNDBOKS, we're always looking for the silver lining–and we're seeing it. All around us people are finding entirely new ways of connecting, of enjoying life and of sharing their passion with the world. And one of those people is our very own Hannah Johnson, who for the past 6 weeks has been lifting spirits in her neighborhood in Copenhagen. 
Every night at 7 PM, Hannah and her fiancé Ben set up their SOUNDBOKS on their patio, pick a catchy tune, turn up the volume, and start dancing. Why? For starters, it doesn't hurt that Hannah has been dancing since before she could walk and that her parents are both musicians. She also has a trusty SOUNDBOKS has been longing to show off its full potential. But more importantly, she was itching to do something that would cheer people up. To create a way for people to come together - at a distance. The result? A daily 10 minute dose of
social dis-dancing! 
"We may be stuck inside, but that doesn't mean that we can't still come together"
-Hannah Johnson, Organizational Development Lead at SOUNDBOKS
For the first couple of nights in early March, it was just Hannah and Ben and their closest neighbors - who also happen to be their best friends - shaking their money makers. It was already dark when the tunes started bouncing off the walls of the apartment buildings, and the neighbors seemed to think they were having a private party. But when daylight savings hit and people could actually see, and connect, with the two couples dancing and enjoying the music - something changed. People started joining in. And for each day and week that has passed, more and more people have joined. Balconies in the neighborhood are full, and passers-by are stopping to share in the fun. Even people far outside the walls of the neighborhood apartment buildings can hear the music blasting from Hannahs SOUNDBOKS.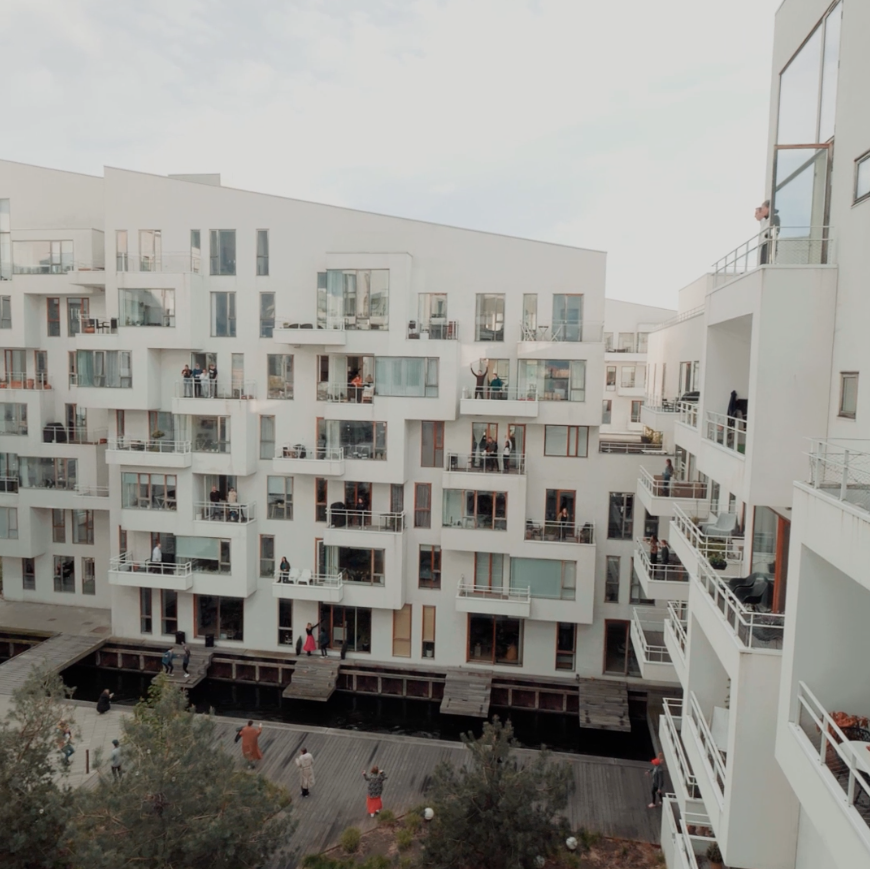 A New Outlook
Before all of this, the extent of neighborly interaction was, at best, a polite "Hello" in the courtyard, at the bike racks, or in the stairwell. But thanks to social dis-dancing, the community is flourishing. Week by week, it is getting stronger and more deeply rooted. Neighbors have started dropping by to leave notes and homemade treats for Hannah and Ben as a thank you for what they are doing. Literal strangers are meeting up for drinks at the docks after the music settles. There is even talk of throwing a big "release" party in the communal courtyard after the lockdown is over. And the neighborhood facebook group is no longer focused just on admin, but on song requests and ideas for how to keep the social dis-dancing spirit alive once life returns to normal. People from all walks of life are coming together in a whole new way - and it's all thanks to some sweet, pretty loud tunes
"If the neighbors are down, I'm happy to keep this going - for forever"
-Hannah Johnson, Organizational Development Lead at SOUNDBOKS
Happily Ever After
Hannah and Ben are supposed to get married this summer, but with everything that's going on in the world, that probably won't happen. But instead of admitting defeat, they have come up with a new plan. A quick and easy courthouse affair followed by an upscale version of social dis-dancing. A "first dance" in the courtyard, with the whole neighborhood joining in and cheering from their balconies - everyone dressed to the nines. An idea that wouldn't have crossed the couples minds a few weeks ago, let alone would it have seemed plausible. They didn't know anyone in their neighborhood. But after just 6 weeks, this outlandish idea seems almost normal. A simple and beautiful homage to the power of community and bringing people together. 
Get out there and take a page out of Hannah's playbook and get your own social dis-dancing party going. Even if all you do is put a smile on one person's face - you've made a difference.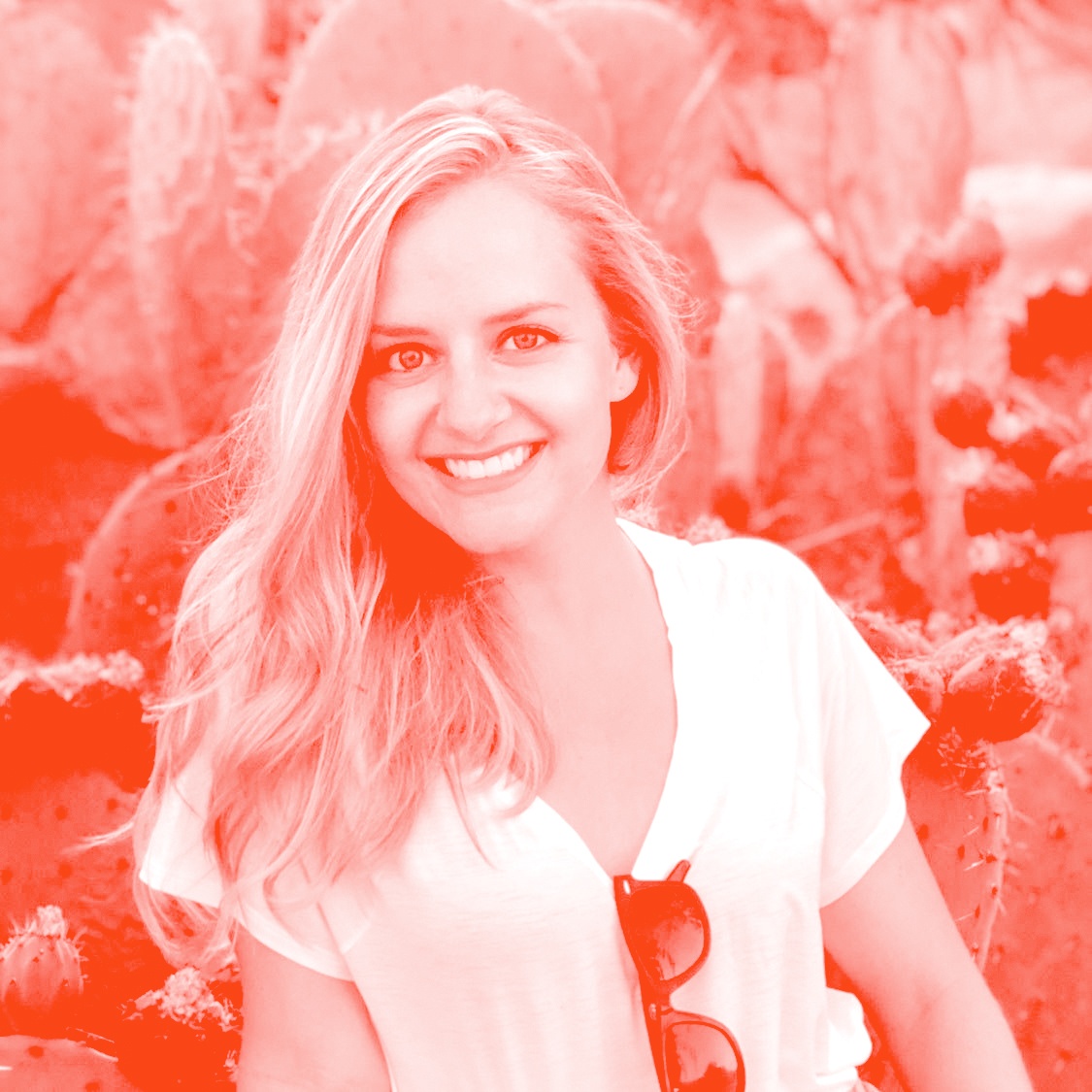 article.authorProfile.title
Hannah is 28 years old and originally from Kentucky. Early 2019, she jumped at the opportunity to move halfway around the world to join her fiance at their new home in Copenhagen. Hannah has been working at SOUNDBOKS for about a year now and is leading organizational development initiatives out of the Copenhagen office. What excites her the most about working at SOUNDBOKS is the unique culture and the deep rooted values that shape the company - Always Aspire, Be Brave, and Champion Community.
article.relatedPosts.title.morePostsIn
global.lifestyleCategory.title