The SOUNDBOKS (Gen. 3) Grills
article.subHeader SOUNDBOKS, starring Alfred - Head Designer at SOUNDBOKS
Over the years we have seen a lot of people experimenting with painting and upgrading their speaker grills. While
we love promoting the DIY spirit in our community, we thought it could be cool to provide an alternative - something for those of you who don't have the tools or the time to do something yourselves or who are looking for a more robust solution.
From experience, we know that with DIY solutions it's hard to get a smooth and durable finish
that will withstand the tough conditions that a SOUNDBOKS is often exposed to - long, intense sun exposure, rainy, muddy festivals, and maybe even a dash of saltwater here and there. So we have created a collection of stylish grills for the
SOUNDBOKS (Gen. 3)
, formerly The New SOUNDBOKS, that
have the same high quality as our original black ones.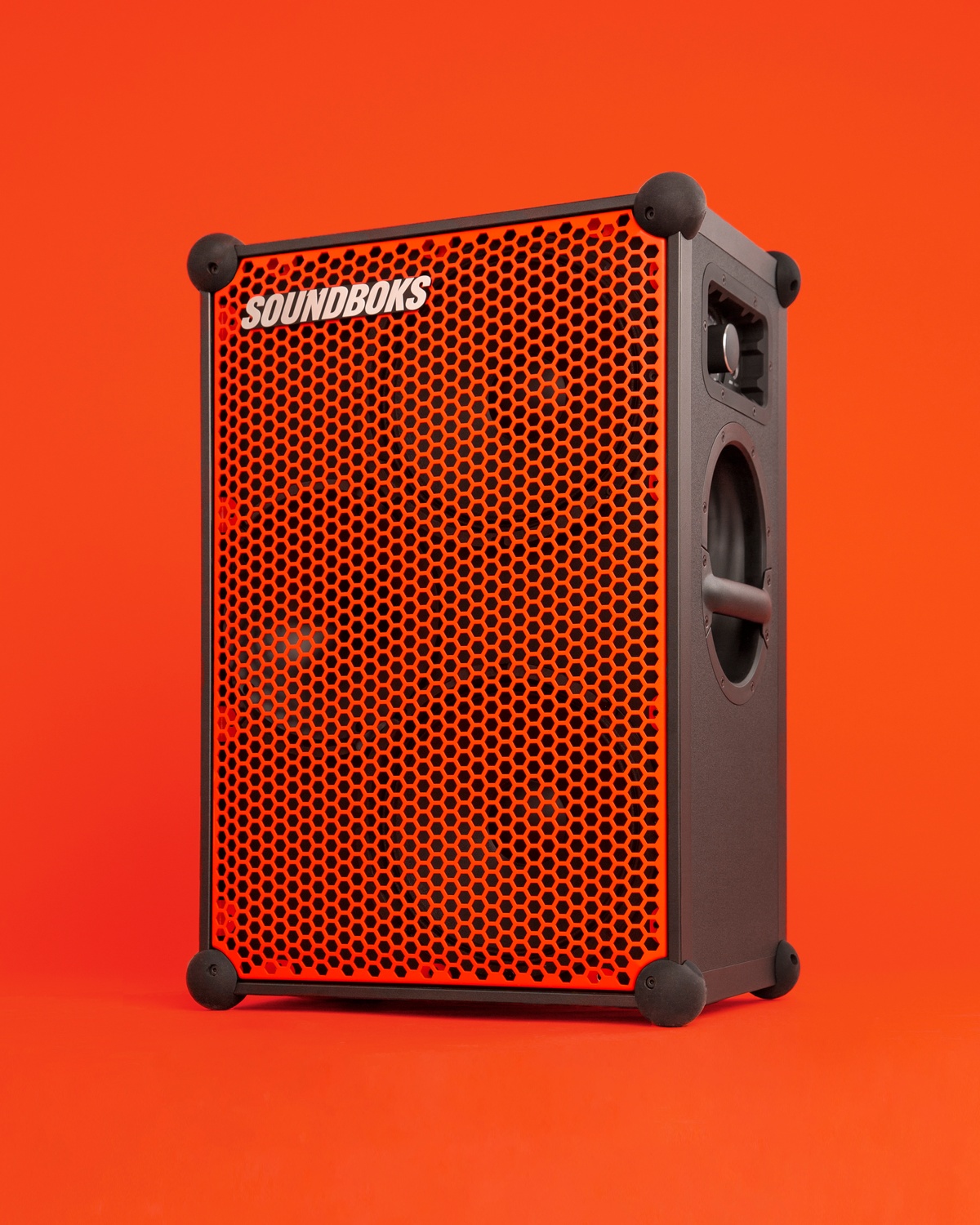 "The orange works so well in the sun and it adds a lot more personality to the speaker." 
-Alfred Müller, SOUNDBOKS Design Specialist
The range.
Instead of overwhelming the community and releasing 20 different colors in one go, we settled on the three that made the most sense to us. There's the classic
black
,
which gives the speaker a nice monochrome look without being boring and it can work great as a backup for an already customized grill. Then there's the
white
, which works really well inside especially in winter, and gives the speaker a more design-y look and feel. And finally, there's the
orange
which as our Head Designer Alfred said, is "a whole story in itself". The short version is that it's a nudge to our roots and the orange canopy we used to pitch at the Roskilde festival. Three stylish, for us very classic colors, that can still completely transform the look of your speaker. 
So what actually is the difference between an original SOUNDBOKS grill and a funky DIY version? It all starts with two powerful, magic words -
powder coating
!
Powder coating? 
Without diving too deep into the technicality of it all, here's a quick rundown of what powder coating is and why it is stronger and longer-lasting than any other coating techniques on the market - including DIY spray paint jobs. 
In the powder coating process, dry powder is shot through an electrostatic gun onto a metal object (in this case the speaker grill). The powder is added in layers until the desired thickness is reached and the coated object (again the grill) is put into a curing oven. Curing turns the powder into a gel, which spreads the coating evenly across the surface of the object (grill). The end result is a super-smooth, super hard finish that is not only scratch and chip resistant but has awesome color retention. 
There are several ways in which powder coating is better than wet paint coating. The three most important aspects for us are:
1. Performance- 
Powder coating is more durable and more resistant to weather impact and corrosion than liquid (i.e paint) coating. Powders create a more uniform coating by eliminating running or dripping, and the color tends to stay bright and shiny for longer. 
2. Safety- 
Powder coatings are generally VOC-free and contain no solvent or any
other harmful compounds.
That means that they do not release any potentially harmful chemicals into the air, as you would typically find with wet paint. 
3. Impact on the environment- 
Powder coatings are generally more environmentally friendly since they don't contain solvents or emit any polluting VOC's into the atmosphere. Additionally, powder coating overspray can be collected and reused, it's considered a non-hazardous material and it meets all Environmental Protection Agency requirements for air and water pollution control. 
"There are multiple advantages to powder coating, but the most important for us is durability."
-Alfred Müller, SOUNDBOKS Design Specialist
We have high durability requirements on our products, especially the grill since it works as a first defense against potential outside harm. To make sure that not only the coating we use can stand the test of time, but the grill itself, we need the right raw materials. When creating the grills, we looked for steel that was flexible enough to cleanly fit the speaker, but that was strong enough to hold up against any impact. In the end, we settled on 1.5 mm thick SPCC cold rolled steel. Stable, durable steel that will take on anything that is thrown at it - something that is in every way perfect for our needs.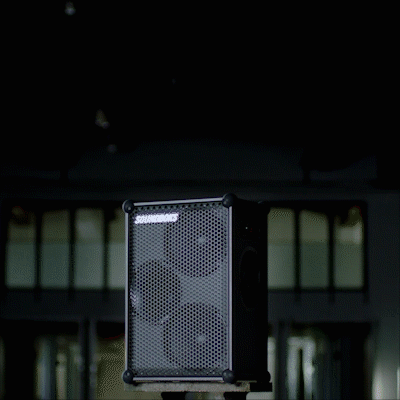 Putting our money where our mouth is...
Just like we do vigorous testing for all the other parts of the SOUNDBOKS, we of course had to put the new grills through the wringer. We want the grills to be both sun and weatherproof, and the coating to hold its own against the elements. We did 24 hours of UV ray exposure testing (2 x 6 hours of UVA and 2 x 6 hours of UVB) and saw no change in color, surface, or mechanical properties. We also did 24 hours of weather testing using saltwater. It is more corrosive than tap or rainwater and ultimately the harder test to beat. For a period of 24 hours, we alternated between 1 hour of saltwater exposure and a 1-hour drying off period. We found no evidence of corrosion, surface defects, or altered mechanical properties. A very good sign on both accounts. 
All in all, we feel confident that the grills will live up to their end of the bargain - sturdy, resilient, and good looking grills that will handle anything you throw at them (although not literally - even if you might enjoy delicious a breakfast smoothie, we are pretty sure your SOUNDBOKS won't.) 
We've had great feedback on the grills so far with lots of requests for new colorways. While we cannot give anything away just yet, what we can say is that t
hese two new colors certainly won't be the last.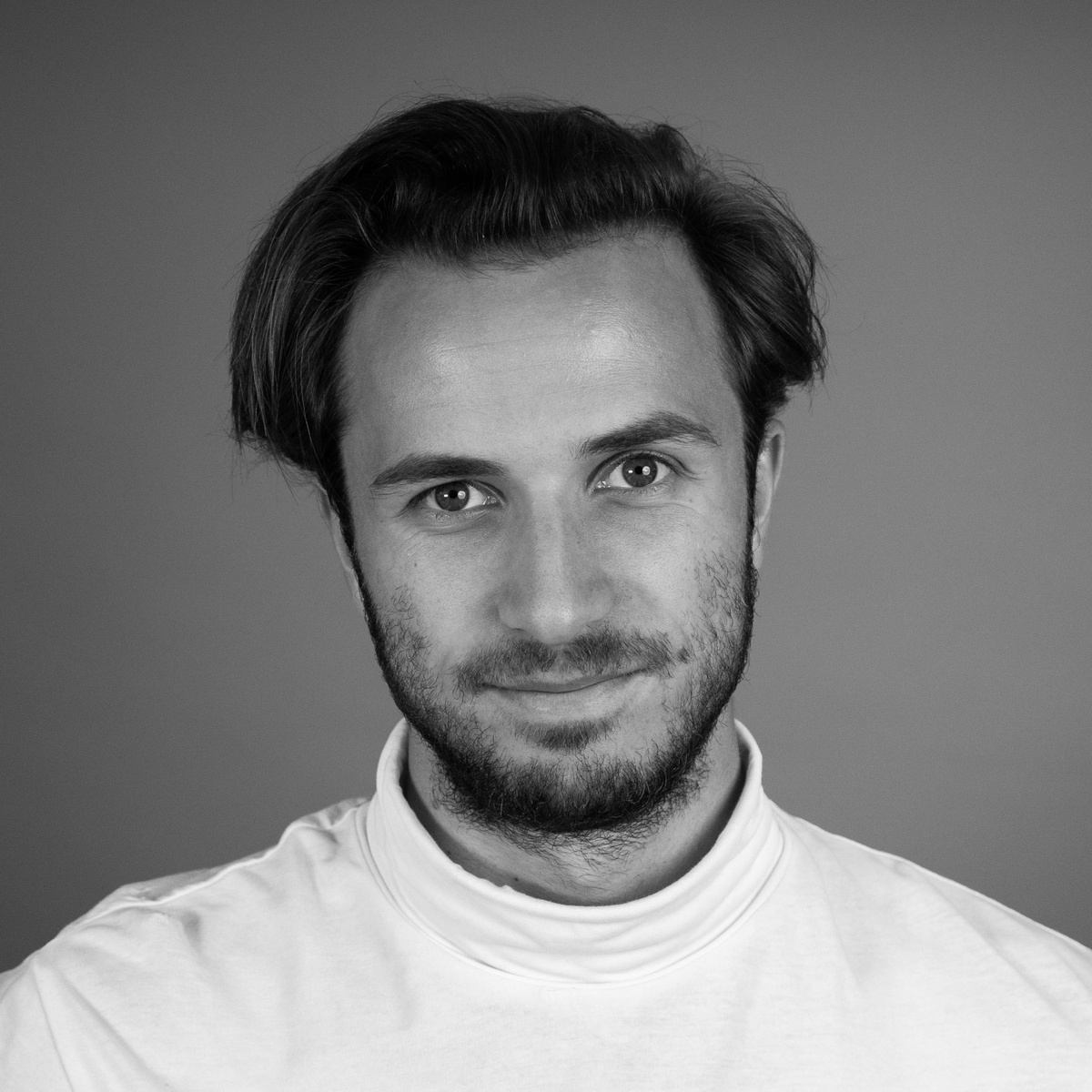 article.authorProfile.title
Alfred is 23 years old and heads up the design team at SOUNDBOKS. Unlike most kids, or so he later found out, Alfred grew up with a workshop in the basement. A place where he could fix, create or build anything he wanted - not all that different from what he is doing now. For Alfred, the best part about working at SOUNDBOKS is that it doesn't feel like work. "I get to do something I enjoy almost every day. There is a lot of freedom and I can create my own structure."
article.relatedPosts.title.morePostsIn
global.productCategory.title