Redefining Summer Through Sports, Part 2
article.subHeader Madison Rose - Pro skier, climber and trail runner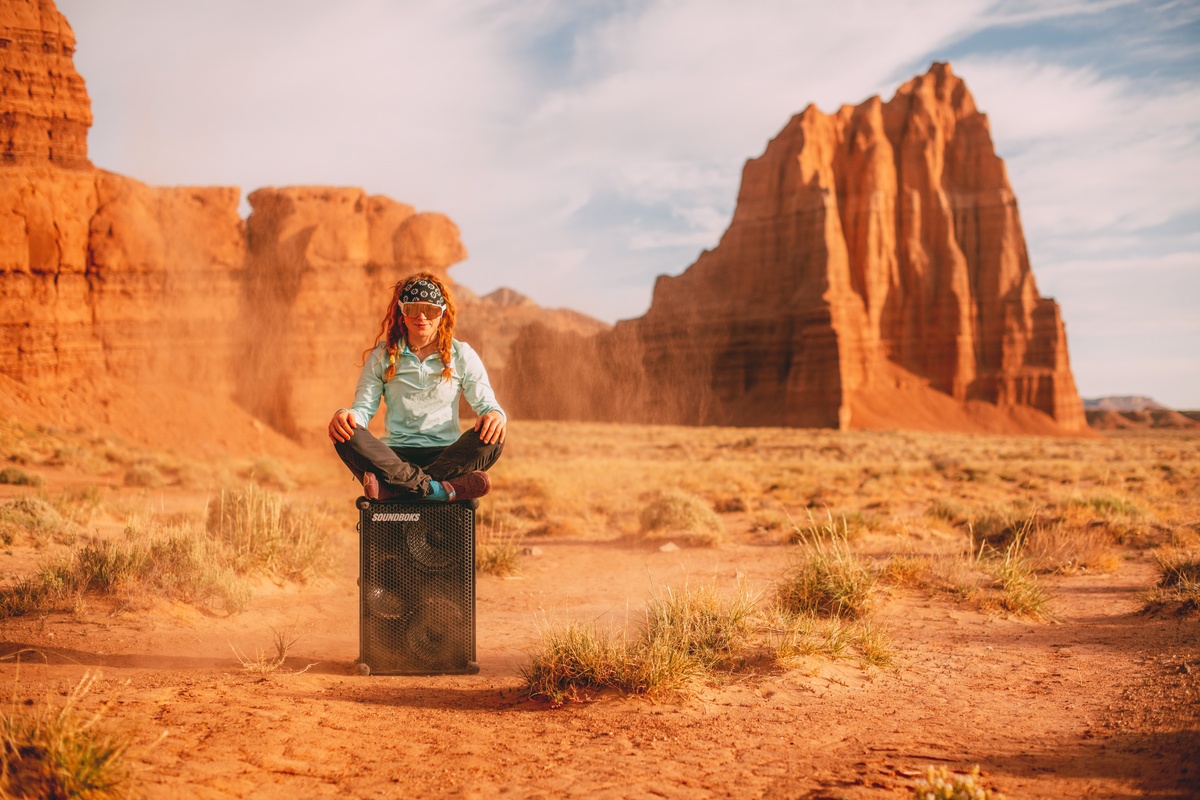 As a professional outdoor athlete, I'm used to having a busy schedule and being on the road for big chunks of time throughout the year. That's obviously changed in the last couple of months. A lot of trips, projects, and competitions have been canceled, but to be honest, I'm not even that mad about it. It's given me a chance to slow down and enjoy the smaller things in life. 
Being active is a massive part of who I am, and it's something that I need to feel good. One of the coolest changes these last few months has probably been that instead of spending hours on end in the gym, I've created my own workout set-up in my backyard using whatever I can find around the house. I've had to get creative about my workouts and it's actually been making the whole thing way more fun. And with the
SOUNDBOKS
(Gen. 3), formerly The New SOUNDBOKS, blasting motivational tunes while doubling as a jumping block - I'm more in the zone than ever. 
When push comes to shove, we are all in the same boat right now. Uncertainty is prevalent and the things that we are used to taking for granted have become rare luxuries. But instead of sulking about what we can't do, why not see this as an opportunity to do something new and unexpected? An opportunity to redefine what we know if you will. 
For me, that means being able to do what I love and am so passionate about, but in a unique and creative way. I believe that the most important thing is to roll (pun intended - you'll get it if you keep reading) with the punches and to keep a positive attitude. Make small changes that are better for you, but also for the community around you. Instead of signing up for a marathon hundreds or even thousands of miles away, why not support your local running club? With privilege often comes ignorance - we think that we need to travel to the other side of the world to find adventure when in reality all we need to do is step outside our front door and start exploring. When we lower our expectations, we open ourselves up to a whole new world of possibilities. 
Taking it up a notch (or 11) 
Getting creative doesn't need to be hard, involve a lot of planning, or even remotely break the bank. In the end, it's all about doing something fun with your friends, family, and community. My good friend Jim Ryan decided on a whim last summer, that he was going to throw an impromptu mobile roller disco party - just because he could. With only 24 hours' notice, he got 40 friends together and they all cruised down the streets of Jackson Hole, Wyoming, having an absolute blast. Basically 0% effort and 100% reward. Being the energizer bunny that I am, my immediate thought was "Why not go bigger?" - and lucky for me, Jim couldn't have agreed faster. 
So, for summer 2020, we are setting up a larger-scale mobile roller disco event in Jackson. We will start at one end of town and wind our way 11 miles (that's about 18 km) through to the other end and finish up at a massive parking lot where we will host the after-party. We've got two ex-local DJs driving in to hopefully really make the party pop off. 
We've got three
SOUNDBOKS
(Gen. 3), formerly The New SOUNDBOKS, that will be following along with us from start to finish. Jim and I will probably each have one on our backs wirelessly connected to the one on the DJ bike stand. Yep, you read that right - the DJ bike stand. We haven't fully hammered out the details of how it will work, but we want the DJs to do their thing the whole way along the course getting the party started from the get-go. 
When we hit the parking lot, that's when the party will really get started. Food, drinks, and epic tunes - hopefully until the early hours of the morning. We will, of course, be making sure that everything and everyone is safe and that we follow all the rules and regulations the authorities have put in place. We are also applying for the permits that we need for possible noise disturbances and gathering a large group of people. But in the end, all we really want to do is to get a crew of awesome people together and get down and boogie. 
Caught the bug? 
If you're stoked by what you just read and have already started playing around with the idea of throwing your own mobile roller disco party, I've got a few tips that might help you along the way:
Start small - reach out to some friends, grab your skates and your SOUNDBOKS, and hit the streets.  If you love it, then with time, invite more people to join and start building a community around what you're doing. The focus should be on connecting with friends, having fun, dancing your butt off, and enjoying life. In a time of uncertainty, moving your body is such a great way of getting out of your head and leaving your worries behind, even if just for a couple of hours. Be creative and put your own spin on it - make it unique. If you don't like rollerblading, who says you can't have a mobile bike or skateboard disco? Just make sure you keep an eye on regulations and restrictions so that you, your community, and the people around you stay safe. And like with everything you do in life - always be respectful. 
If you do end up starting your own MRD (let's make it a thing :)), please tag me 
@Madisonnrose
 and
@SOUNDBOKS
on Facebook and Instagram so we can watch the community grow and cheer you on. 
Let's all come together and redefine summer in the best way possible.