Is the SOUNDBOKS waterproof?
article.subHeader SOUNDBOKS - Not the speaker itself, but the people behind it.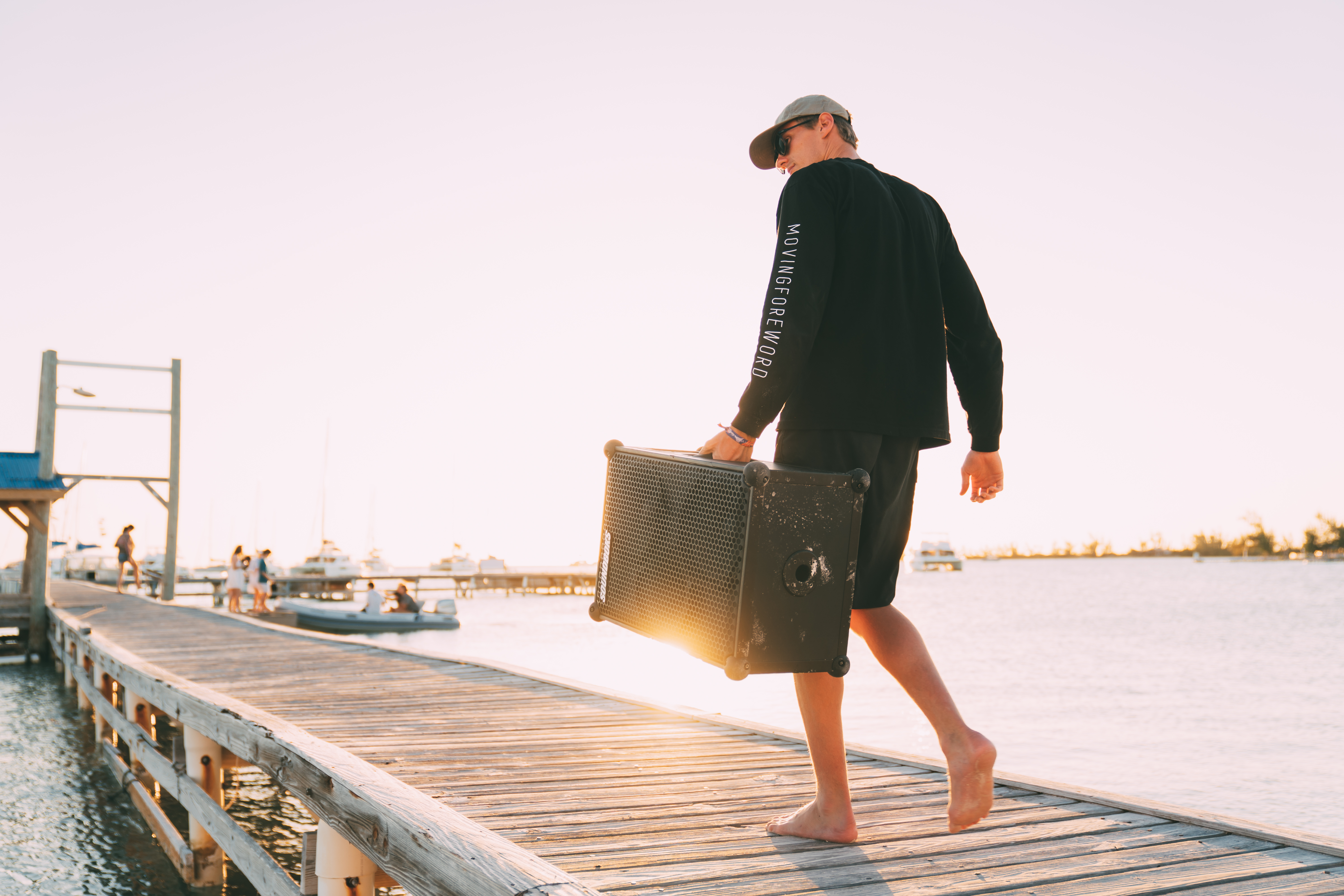 Splish splash, I was taking a bath
Long about a Saturday night.
A rub dub, just relaxing in the tub
Thinking everything was alright.
Wait - no that's not what we wanted to talk about. But it's along the lines of the right subject so we haven't gone completely off the rails, don't worry. 
A common question that comes our way is whether or not the SOUNDBOKS is a waterproof Bluetooth speaker. And even though the straightforward answer is NO, the SOUNDBOKS is not waterproof, there is a lot more to it than that. So let's dig a little deeper and see if we can provide some more clarity on the subject. 
Waterproof vs Water-Resistant Speakers
For a device to be considered a waterproof speaker
to be waterproof it needs to be impervious to water - meaning that water has no effect whatsoever on the speaker. While a lot of companies claim that their speakers are waterproof when you look a little closer, the word water-resistant would often be more suitable. 
"Waterproofness" is usually categorized by a so-called IP rating.
IP stands for "Ingress Protection"
. This is a measurement that indicates the level of protection an item will have against liquids and solid objects such as dust, sand, dirt, etc.
Each IP rating consists of two numbers - the higher the number, the higher the level of protection. The first number, on a scale from 0 to 6, refers to solid objects and moving parts. The second number, on a scale from 0 to 8, refers to liquids and moisture. 
As an example, an IP65 rating means that an object can safely be used in an outdoor setting and is water-resistant. In comparison, an object needs to obtain an IP68 rating to be considered waterproof. Most waterproof speakers on the market today come with an IP67 or IPX7 rating, getting them pretty close to the finish line but not quite all the way there. 
With this information, we can look a little closer at the
SOUNDBOKS (Gen. 3)
, formerly The New SOUNDBOKS. We have done our very best to construct the speaker to handle most things you throw at it - be that rain, snow, sand, or spilled drinks. And if you bring your SOUNDBOKS (Gen. 3), formerly The New SOUNDBOKS, home from a super muddy festival tour, you can hose it down without any issues. But will the SOUNDBOKS survive being thrown into the deep end of a pool? Probably not. 
All of the electronics inside the product are coated to comply with an IP65 rating meaning they are water-resistant. But because of the way the bass reflex port is built (going through the middle of the speaker and giving the SOUNDBOKS its beloved sound quality), water could technically enter the product if submerged. Which is why the product as a whole cannot be given a higher IP rating. We don't see it as a big problem because, in our mind, there is no scenario in which it would be beneficial for users to be able to submerge the speaker in water. If full water submersion is your ride-or-die criteria for an outdoor party speaker - maybe the SOUNDBOKS just isn't the right fit for you.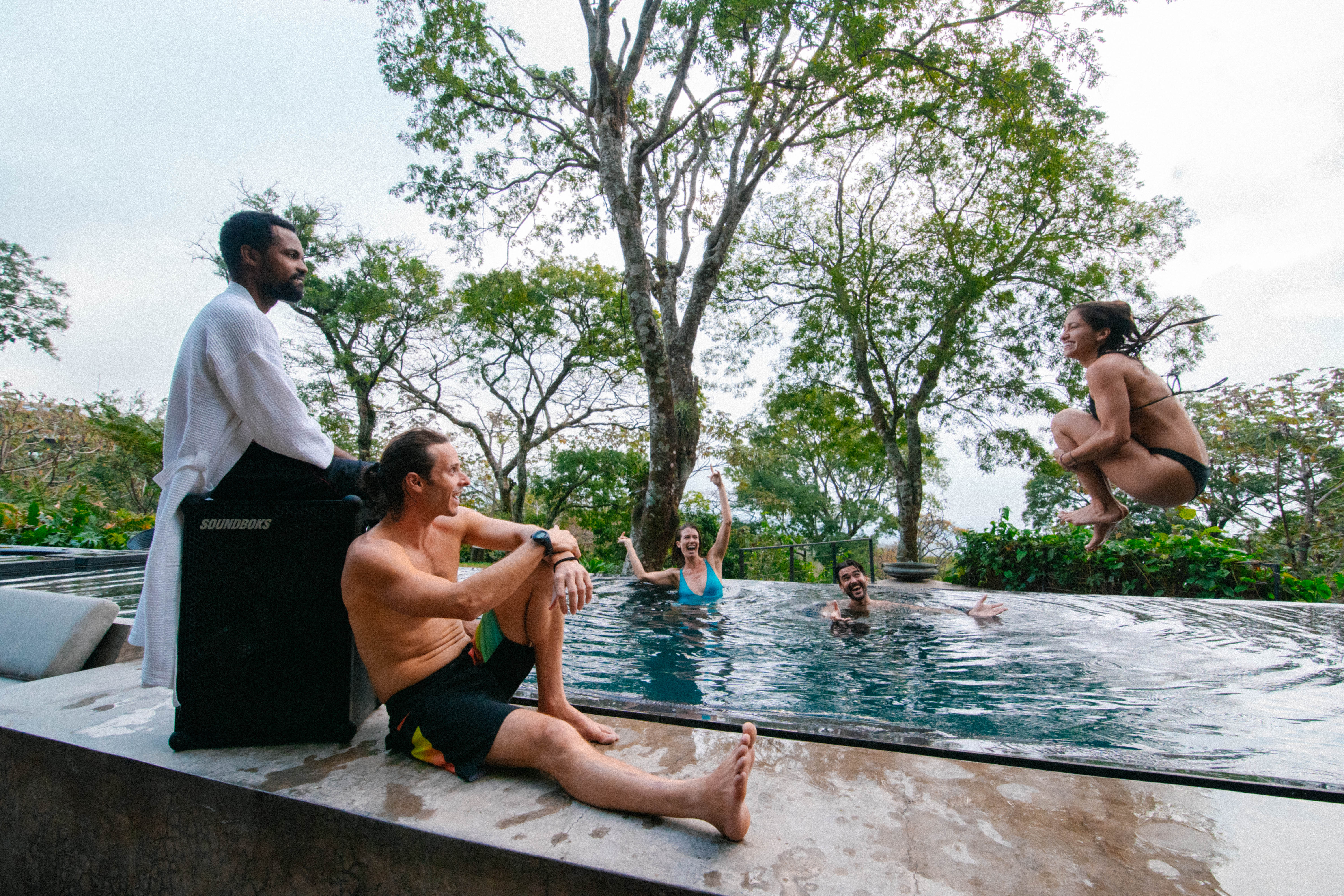 If we take a quick look at the waterproof speakers on the market today, pretty much all of them are sizably smaller than the SOUNDBOKS. Which makes total sense. A small portable speaker that you can stick in your pocket, hang off your bike, or throw in any bag or backpack is used in an entirely different way than a larger, heavier performance speaker like the SOUNDBOKS. Additionally, the price point is much lower - meaning that if by some chance the speaker doesn't hold up to its waterproof standard you won't be quite as upset about having to replace it. 
A small, let's call it pocket speaker, is something you would consider
bringing
with you on your favorite unicorn-shaped pool float or let casually hang out on your SUP board. For such
occasions,
you want to have the peace of mind of knowing that the speaker can handle being submerged in water. 
The SOUNDBOKS on the other hand is a speaker you would take with you on your road trip adventure, set up for your very own outdoor festival, or use to get pumped up for a heavy workout. The SOUNDBOKS is used in settings where sound quality and durability far outweigh the pros of waterproofing. And not to toot our own horn, but in the performance Bluetooth speaker category the SOUNDBOKS actually clocks in as one of the most durable and water-safe options out there. 
Durability of the SOUNDBOKS
Instead of spending a lot of time and energy on making the SOUNDBOKS (Gen. 3), formerly The New SOUNDBOKS, waterproof, we chose to focus on creating one of the most durable speakers on the market. A much more valuable trait for this category of speakers. Parties and events can be unpredictable. So we chose to design our speakers to withstand not only the elements but both clumsiness and the occasional spurt of rowdiness. 
The speaker cabinet is made from poplar plywood coated in a thin layer of plastic providing a strong casing to house all of the more sensitive electronics. All of the internal and external components are designed to handle temperatures from -10 to +40 °C (+14 to +104 °F), which lets you use your speaker in pretty much any climate.
The highlights of the SOUNDBOKS (Gen. 3), formerly The New SOUNDBOKS, durability features are:
A dent-proof steel grill
- so if someone decides to show off their less than incredible karate moves in the middle of your party, we've got you covered. 
Splash-proof electronics
- to keep your speaker safe from rain and spilled drinks. 
A bash-proof cabinet and aluminum frame
- if Clumsy Cassie decides she wants to show off how strong she has gotten since she started kickboxing and accidentally falls over with the speaker raised over her head, you needn't worry (at least not about your speaker). 
And last but not least scratch-proof and shock-absorbent silicone ball corners
- there's always that one person at the party who isn't fully in control of their limbs. You don't need to worry about them getting too close to your SOUNDBOKS, it can handle a tumble or two. 
The
SOUNDBOKS (Gen. 3)
, formerly The New SOUNDBOKS, is at its core a party speaker. A portable Bluetooth speaker that can be taken anywhere, any time, and used in less than ideal conditions - be that a rainy and muddy 5-day music festival or an impromptu snow park shred session. As long as you have enough juice to keep the battery alive, there really is no reason why your party should be cut short due to outside influence. 
For us, having created a durable, portable speaker is so much more valuable than spending a lot of time and energy on attempting to make it impermeable to water. We think the speaker is pretty kick-a%* as it is and are happy with it being "just" weatherproof and not waterproof. 
Do you agree with our conclusion that there is no need for the SOUNDBOKS to be 100% waterproof? Is it enough to be dust and water-resistant? Or would you be more inclined to buy a waterproof SOUNDBOKS? We'd love to hear your thoughts on this so shoot us an email at
volume@SOUNDBOKS.com
.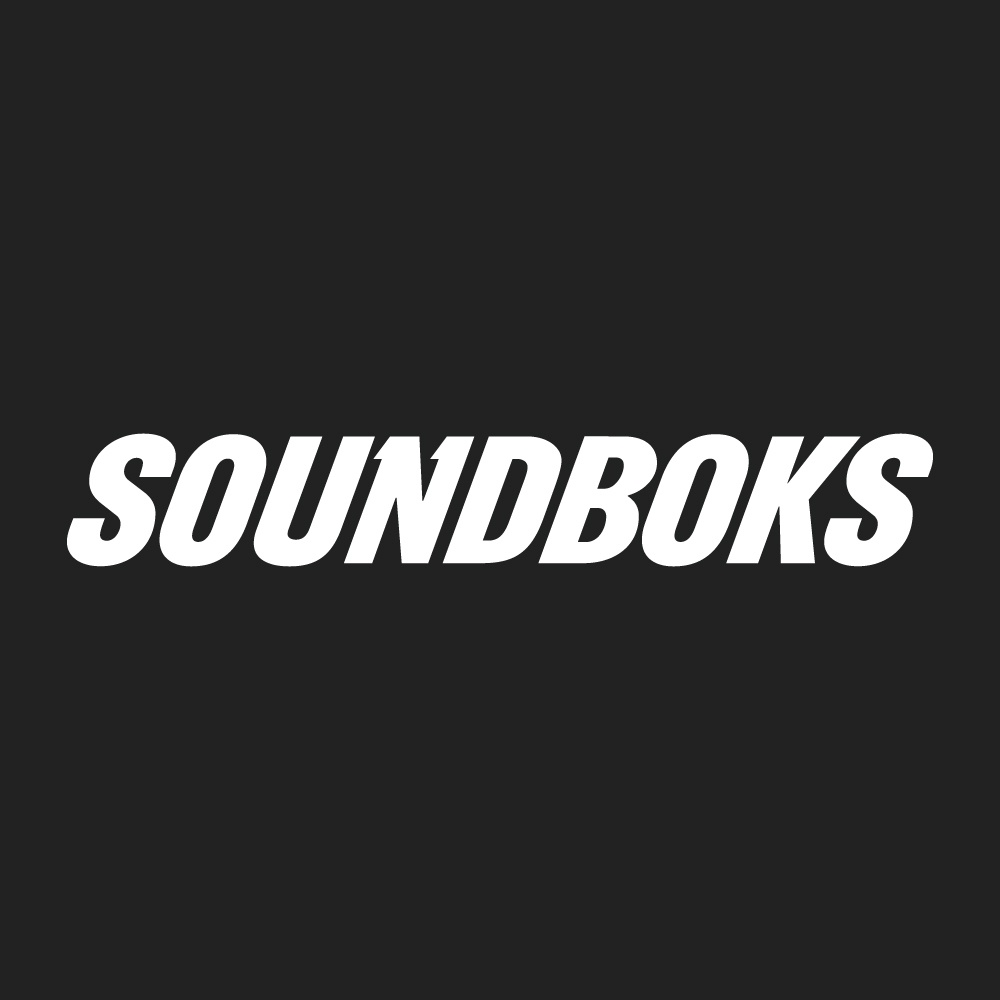 article.authorProfile.title
SOUNDBOKS is the world's first and only Bluetooth Performance Speaker. Beautifully loud, wirelessly pairable, amazingly durable, surprisingly lightweight and the only wireless speaker with a swappable battery.
article.relatedPosts.title.morePostsIn
global.productCategory.title