Customize: Adding LED Lights
article.subHeader SOUNDBOKS, starring Vitus & Kristian - SOUNDBOKS Community Members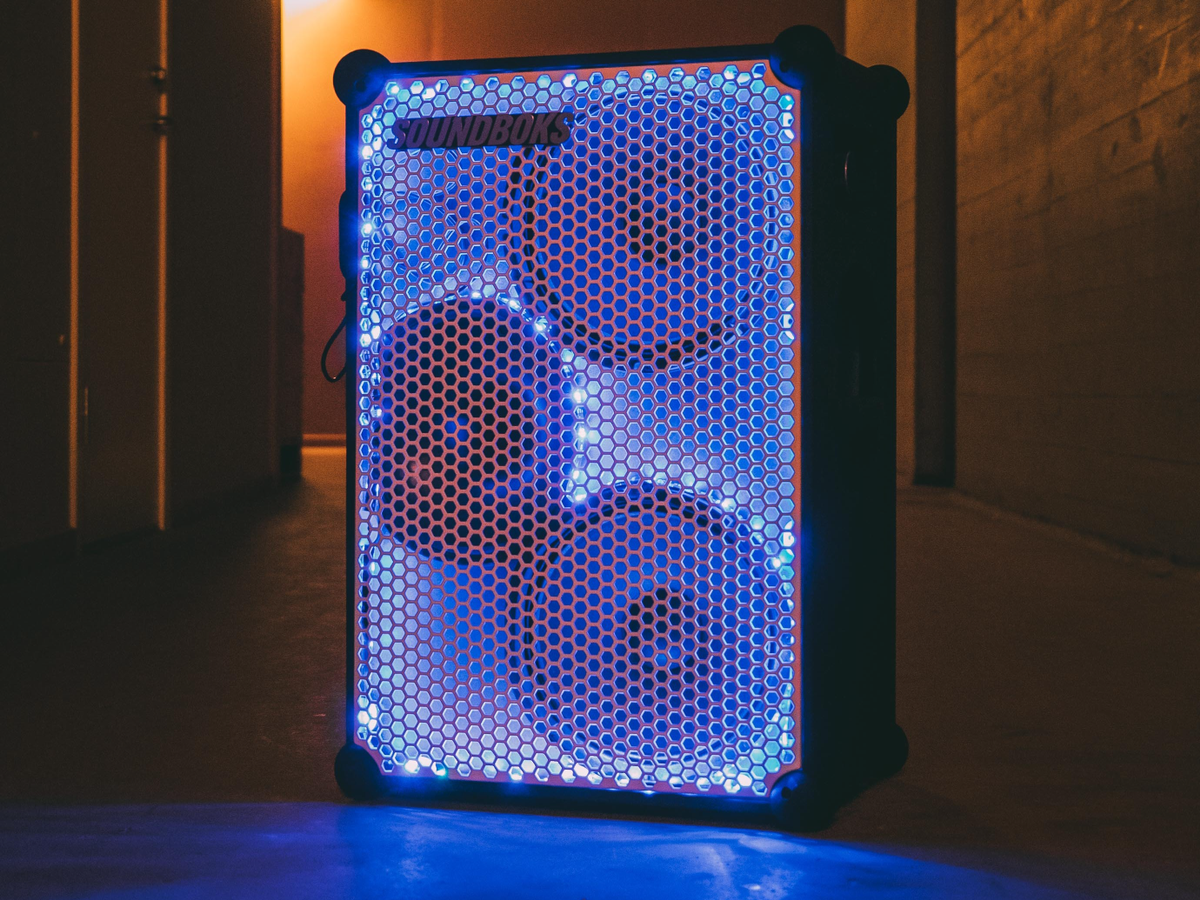 There's nothing worse than a party with crappy lighting - that's probably something we can all agree on. Trying to get jiggy with it under fluorescent lighting is far from sexy and should be avoided at all costs. So what do you do if you're in a pinch? 
We have an idea. We checked in with Danish SOUNDBOKS Community members Vitus Duelund Jepsen and Kristian Ritter, who have taken the customization game to the next level by combining their SOUNDBOKS Bluetooth speaker with LED lights.
What started just as a fun project between two friends has become something of a trend. These boys were inspired early on to add colorful LED lights to their speakers - guaranteeing that they will never be without the right lighting, no matter what. Vitus and Kristian use
WS2811 LED
lights that have 180 different settings, can be programmed to follow the beat of the music, and that lets you choose any color light with the help of a simple app. Pretty sweet right? And we haven't even gotten to the best part! 
To level the playing field, we have put together a short how-to guide so you can go out there and create your very own LED studded SOUNDBOKS. 
"It's an indescribable feeling when people show their excitement and appreciation for something that you have created."
- Kristian Ritter, SOUNDBOKS Community Member
It doesn't matter which version of the SOUNDBOKS you're sitting on (maybe even literally while reading this - the speaker has been known to double quite successfully as a stool), this upgrade works for all of them. 
Here's what you'll need:
Allen key (SOUNDBOKS (Gen. 3), formerly The New SOUNDBOKS) or a screwdriver (SOUNDBOKS (Gen. 1) & SOUNDBOKS (Gen. 2), formerly SOUNDBOKS 2),
3 meters of waterproof RGB LED light strips in your color or color combination of choice. You can get them at most electronic stores or online. The boys recommend rainbow-colored lights for added flair. 
1 DC Y splitter power cable, that you can find online or in any well-stocked electronics store.
The whole thing should take no more than 30 minutes - so put on your favorite playlist and get to work. 
Let's rock n' roll. Here's a quick breakdown of how to take your SOUNDBOKS to the next level:
Step 1, Remove the grill: 
Find the Allen key that comes with your
SOUNDBOKS (Gen. 3)
, formerly The New SOUNDBOKS, and use it to unscrew the screws that hold the grill in place. For the SOUNDBOKS (Gen. 1) or the
SOUNDBOKS (Gen. 2)
, formerly SOUNDBOKS 2, you need a screwdriver to take the grill off. Each screw is fastened with a spacer, so make sure you keep those for when you remount the grill.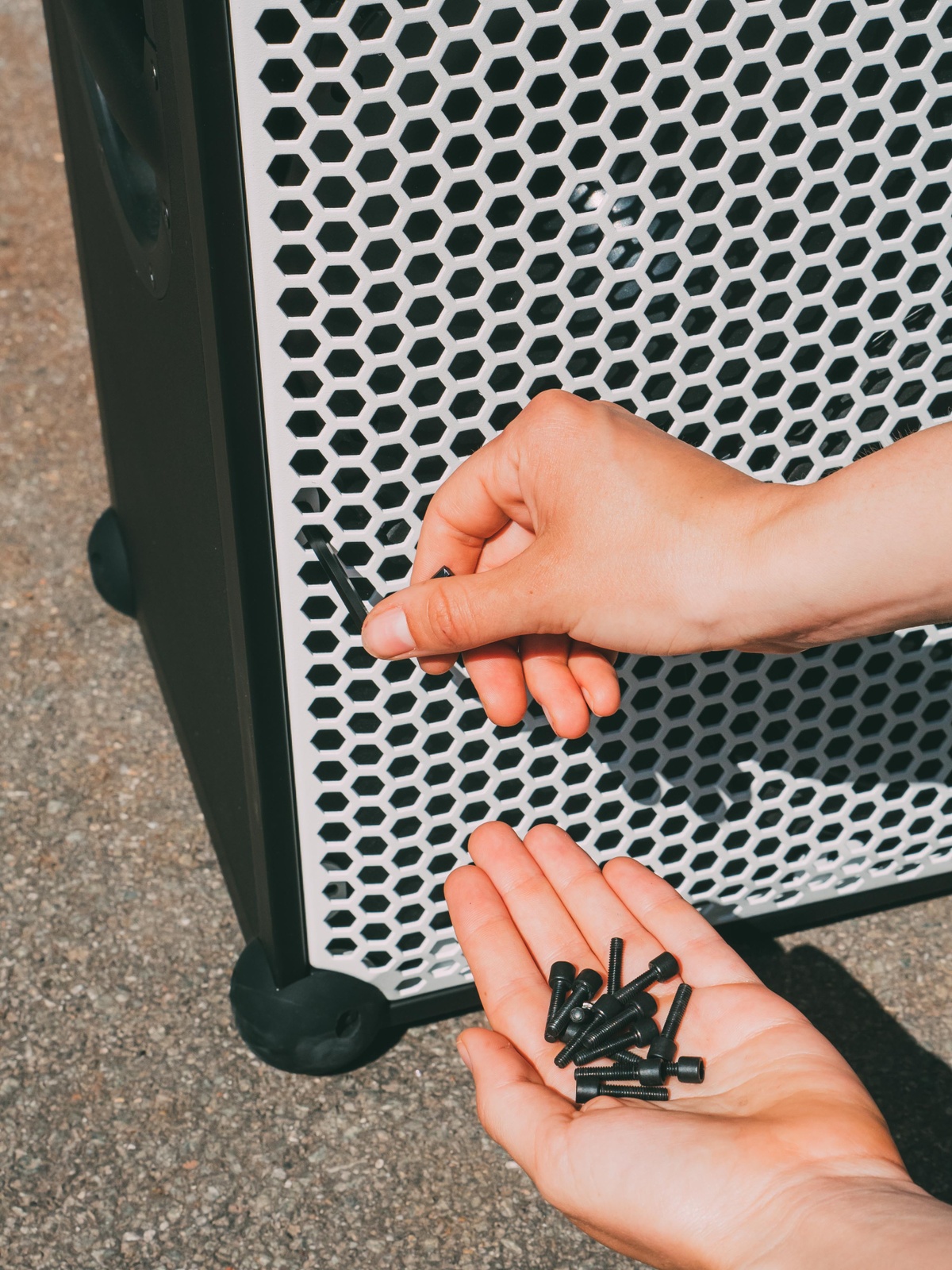 Step 2, Positioning the lights:
On the SOUNDBOKS (Gen. 3), formerly The New SOUNDBOKS, we recommend attaching the LED lights to the grill and not to the speaker itself. For the SOUNDBOKS (Gen. 1) and the SOUNDBOKS (Gen. 2), formerly SOUNDBOKS 2, you can embed the lights in the cabinet behind the grill. Let your creativity run wild and come up with a cool pattern or shape by playing around with the positioning of the lights.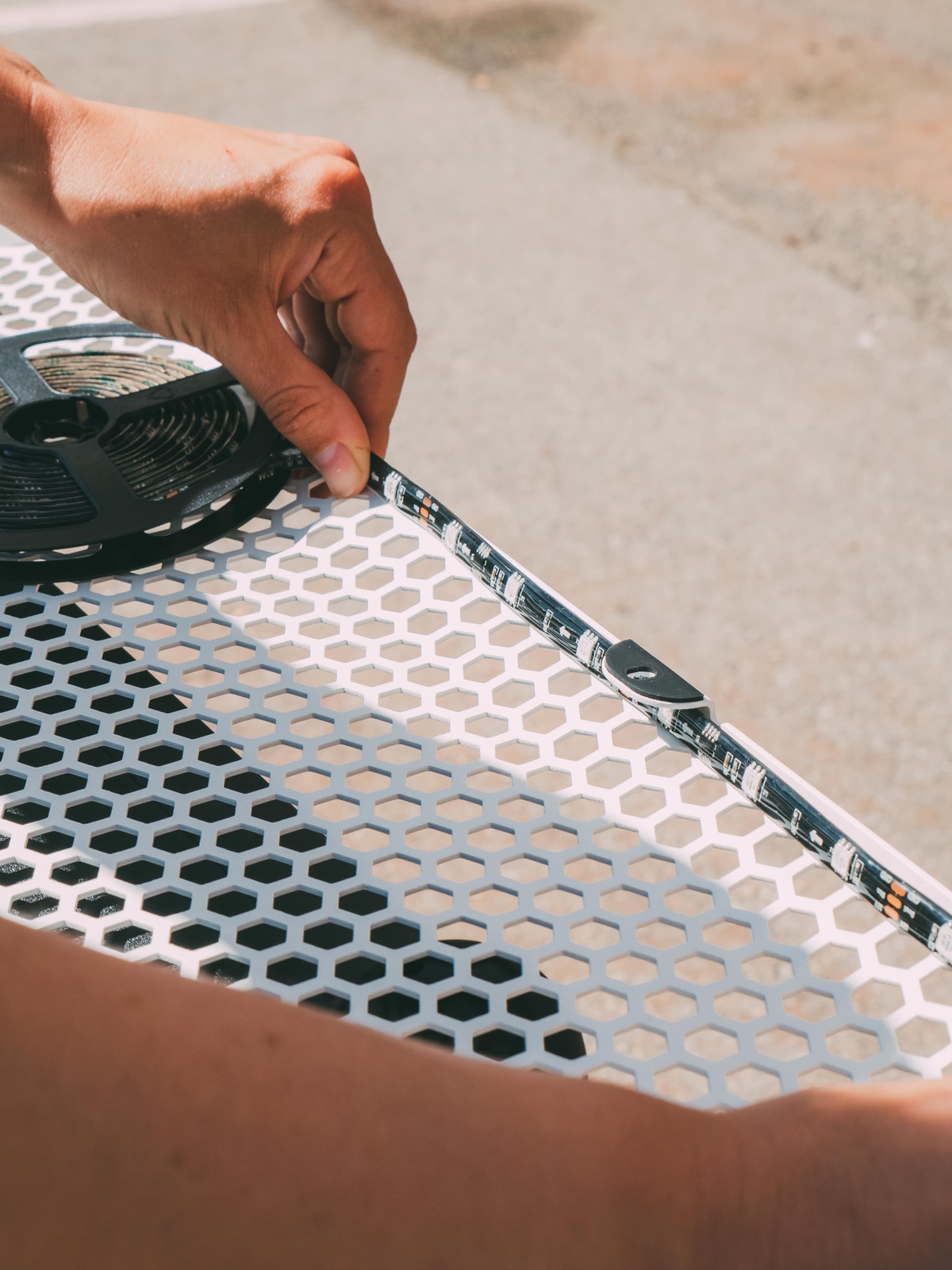 Step 3, Connecting the power splitter: 
Grab the end of the cord of the LED lights and connect it to one of the female ends of the splitter. Take the DC plug from your BATTERYBOKS and connect it to the second female end of the slipper. Power up your speaker and test to make sure that the connection is secure and not glitching.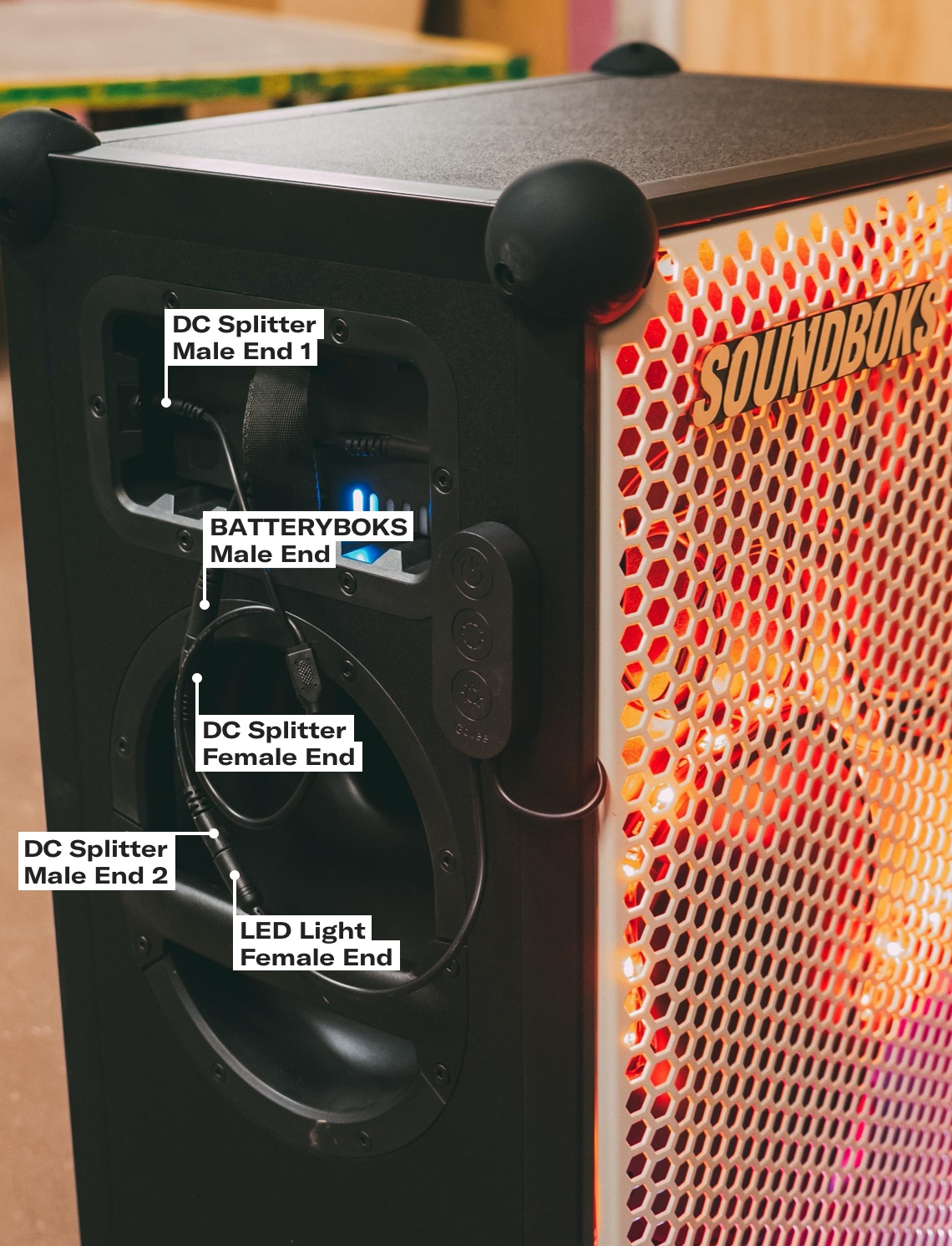 Step 4, Party like it's 1999: 
Reattach the grill and give yourself a pat on the back. Turn off the lights and pick your favorite tune, your SOUNDBOKS Bluetooth speaker with LED lights is sure to get all of your friends shaking what their mamas gave them.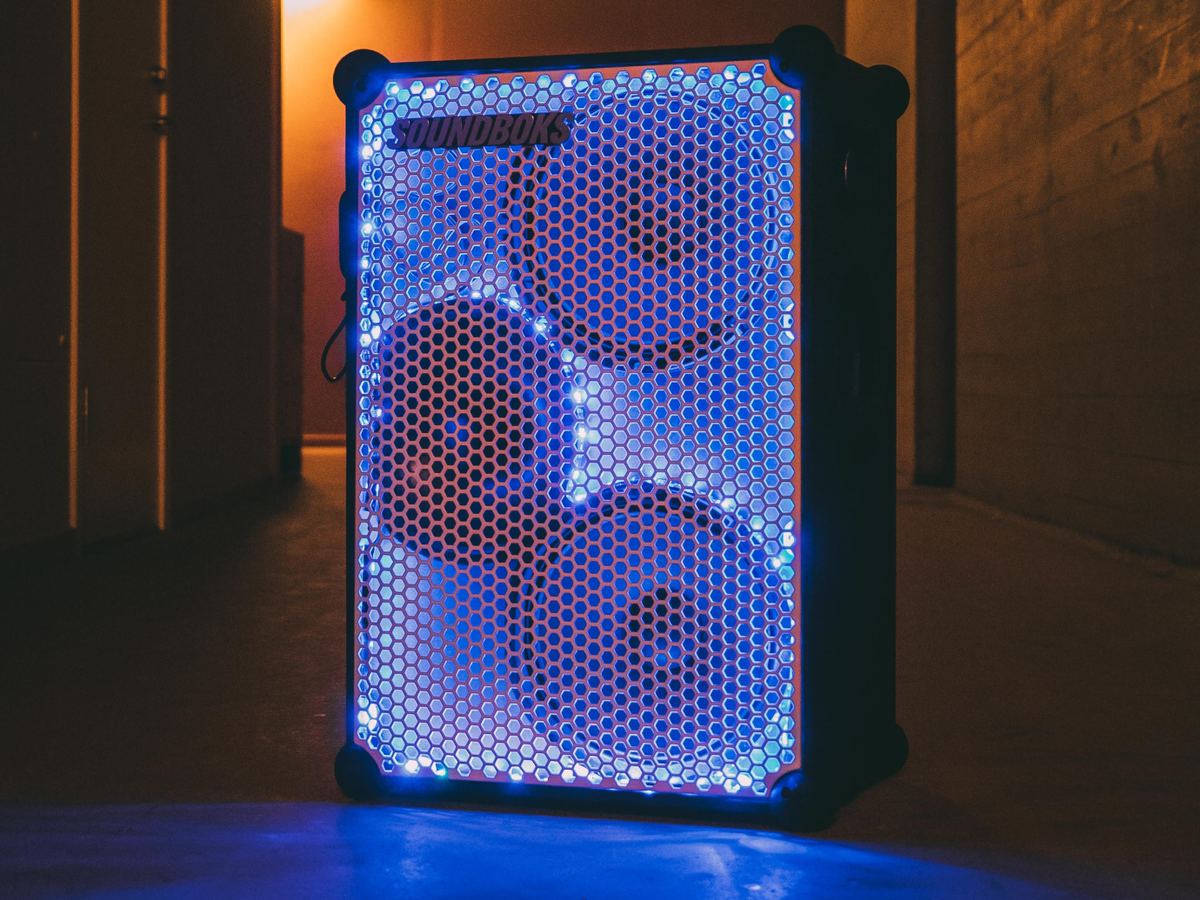 Once you're done drooling over how cool your new and improved speaker is, we'd love to see your creations. Tag @SOUNDBOKS on Facebook or Instagram so we can follow along and see what you come up with. And who knows, maybe your SOUNDBOKS Bluetooth speaker with lights be next in line to get a shoutout.
Are you looking for other ways of making your SOUNDBOKS your own? Check out our articles on
hydro dipping
,
painting
, and 
foiling
.
***As much as we love seeing customized SOUNDBOKS whether it's a crazy sticker job or a simple artistic touch, it may affect your warranty or ability to return your speaker. Here's what you need to know:
If you open the speaker in any way - i.e take off the handles, remove the UI panel, remove the speaker units, etc. - your warranty will be void. 
You can use a splitter for the battery (to add lighting) as long as you don't alter the electricity or cabling of the speaker, your SOUNDBOKS will still be under warranty. However, SOUNDBOKS does not cover issues that may occur during usage and installation. 
You can remove the grill from any SOUNDBOKS model - this has no effect on the warranty. However, if you modify your speaker in any way by adding foil, customizing the grill, adding stickers, etc., it is no longer eligible for return.  
If you go nuts with your customization and realize a few months later that you don't actually like it, replacements (for example a new grill) are not covered by warranty.
If you damage your SOUNDBOKS during customization by for example getting paint in the UI, the Pro Panel, or the speaker units, the repairs are not covered by warranty.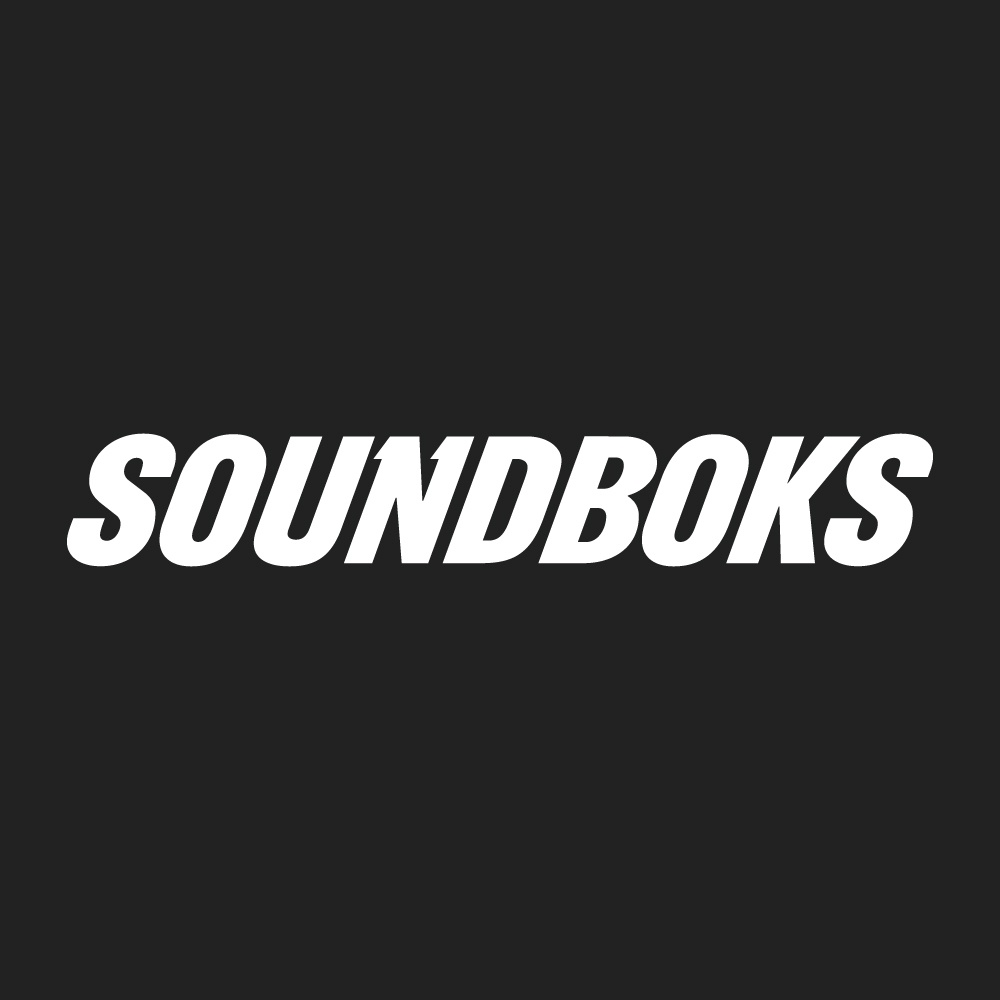 article.authorProfile.title
Vitus is 17 yeas old and lives in Esbjerg, Denmark. When he's not out kicking butt on the golf course or jamming on his saxophone, he is getting lost in his father's 1000 piece LP collection. A true music buff who will happily bob along to anything from fusion-jayy to new-age-rock to techno. Kristian Ritter Rasmussen is 16 years old and lives in Esbjerg, Denmark. Fascinated by anything to do with technology and programing, it's no wonder he is thriving at customizing SOUNDBOKS. Even though he is a big fan of electro, you won't see Kristian shying away for a rock concert any time soon.
article.relatedPosts.title.morePostsIn
global.productCategory.title